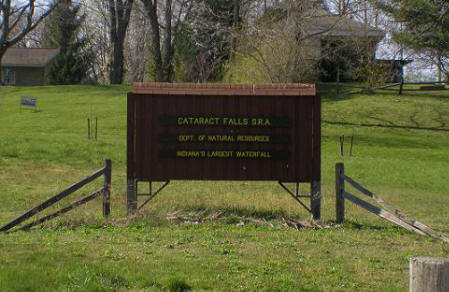 Cataract Falls SRA Map Google Map
Driving Map From I-70, south on US231 & Bloomington
Cagles Mill Lake Information Indiana Department of Natural Resources
To make a reservation by phone, call:
For a shelter reservation you will need to call the Central Reservation System.
Their toll free number is 1-866-622-6746 the hours of operation are
12-8 Mon.-Thurs., 8-6 on Friday and 8am -Noon on Saturday.
1-866-6CAMP-IN
(1-866-622-6746)
Making an online facility reservation is easy.
http://www.indiana.reserveworld.com/Campgrounds/search.cfm
Choose Lieber State Recreation Area for Cataract Falls facilities
Check out the State Parks & Reservoirs Special Events
The park is open from sun-up til sundown.
The park office is open from ~9AM til 5-6PM.
If you arrive before the office opens, you can go in free.
Otherwise, there is a $5 charge.
There are covered picnic pavilions at the upper and lower falls, along with outhouse facilities.
There is one nature trail, about .5mi in length, that is located between the two falls.
There are trails others have made on either side of Mill Creek.
Use state road 225/250W to access the East side of the falls and Mill Creek.
At the lower falls, you could hike down Mill Creek toward Cagle Mill Lake.